Enter your information and I'll get right back to you with a free home estimate.
check
Sent
What's my home worth?
Enter your information and I'll get right back to you with a free home estimate.
check
Sent
Todd Patterson
Coldwell Banker
Number of Homes for Sale Up from Last Year, but Below Pre-Pandemic Years
February 13, 2023
---
The biggest challenge in the housing market right now, and likely for years to come, is how few homes there are for sale compared to the number of people who want to buy. That's why, if you're thinking about selling your house, this is a great time to do so. Your house would be welcome in a market that has fewer homes for sale than it did in the years leading up to the pandemic.
According to the latest Monthly Housing Market Trends Report from realtor.com:
"There were 65.5% more homes for sale in January compared to the same time in 2022. This means that there were 248,000 more homes available to buy this past month compared to one year ago. While the number of homes for sale is increasing, it is still 43.2% lower than it was before the pandemic in 2017 to 2019. This means that there are still fewer homes available to buy on a typical day than there were a few years ago."
The graph below shows how today's inventory of homes for sale compares to recent years: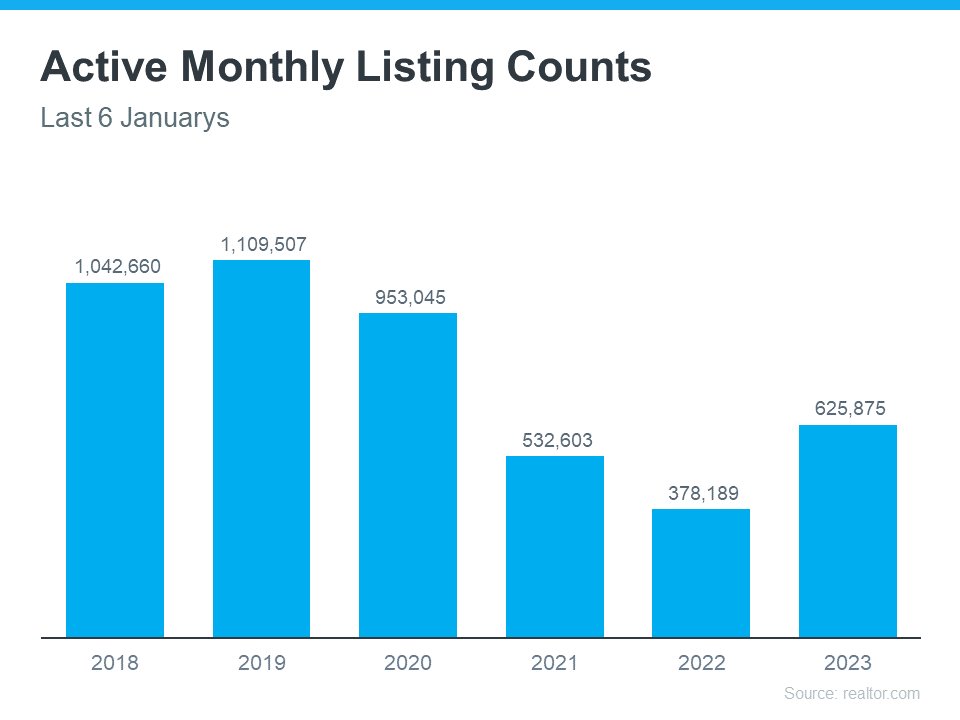 What Does This Mean for You?
Fewer homes for sale means buyers have fewer choices than they did prior to the pandemic—and that frustration is leading some to give up on the homebuying process altogether. But with mortgage rates sitting lower than they were at the peak last fall, more buyers are willing to come back into the process—they just need to find homes to buy. This is welcome activity for the spring market, especially if you're thinking of selling your house.
With a renewed interest in buying a home for many, the New York Times (NYT) reports:
"Home buyers are edging back into the market after being sidelined last year . . ."
So, if you want to take advantage of a sweet spot in the market, this spring could be your shot.
Bottom Line
The housing market needs more homes for sale to meet the demand of today's buyers. If you've thought about selling, now's the time to connect with a local expert and get ready to make a move this spring.
---
Tags:
Featured Listings
Single story four bedrooms and two bathrooms home on corner lot with paved RV access and 3 car garage. This home has been renovated with upgrades to kitchen, bathrooms, plumbing fixtures, lighting fixtures, flooring, appliances, countertops, windows...
View property at the top of Ana Verde. This single story home is meticulously kept. Grand entryway into custom interior painted, wainscoting paneling, custom 6'' base boards, dark engineering hardwood flooring & raised panel doors throughout...
Presley subdivision centrally located in west Lancaster. This two story pool home has been freshly painted and newly carpeted. Home has four bedrooms and three bathrooms...
Rancho Vista (Fairways) Pool Home. This two story is locate on a Cul de sac street. This well maintained home has bedroom and bathroom downstairs. Wood look ceramic tile flooring, Quartz countertops, Stainless appliances...